The Governance – Global Practice of the World Bank and the partner institutions of Charter for Public Procurement Studies (CPPS) proudly present the PROFESSIONAL DIPLOMA IN PUBLIC PROCUREMENT, E-NABLING PROCUREMENT PROFESSIONALS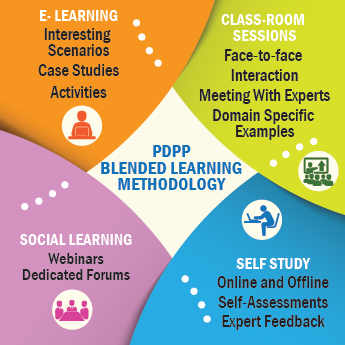 Blended Learning Methodology
followed in Professional Diploma in Public Procurement (PDPP)
CAREER OBJECTIVES
PDPP aims to build up a strong foundation in Public Procurement
PDPP endeavors procurement practitioners in India to understand the process and best practices in Public Procurement followed in Govt. of India and States
PDPP tries to enable those who are aspiring for a career in public procurement to acquire in-depth knowledge and understanding of the field
WHO CAN BENEFIT FROM THE COURSE?
Procurement Professionals wishing to update their domain knowledge
Non-procurement professionals who are involved in or manage the procurement function
Employees of private sector who bid in Public Procurement
Auditing and compliance professionals
Anyone interested in Public Procurement
BLENDED LEARNING METHODOLOGY
PDPP provides learners with an opportunity to enhance domain knowledge and benefit from expert feedback on submissions.
Registered learners systematically enhance their knowledge and skills, and undergo structured assessment. The blended methodology ensures comprehensive online and offline learning..

DURATION AND ASSESSMENT STRUCTURE
Registered candidates are given six months to complete PDPP
They are required to pass module-end assessments, submit assignments and pass the end-term online assessment
The Diploma will be issued to all successful candidates
Validity of the enrollment is 1.5 years
Each additional exam attempt will be charged at Rs.1000/-
Only 3 chargeable attempts allowed during the enrollment period