The Governance – Global Practice of the World Bank and the partner institutions of Charter for Public Procurement Studies (CPPS) proudly present the PROFESSIONAL DIPLOMA IN PUBLIC PROCUREMENT, E-NABLING PROCUREMENT PROFESSIONALS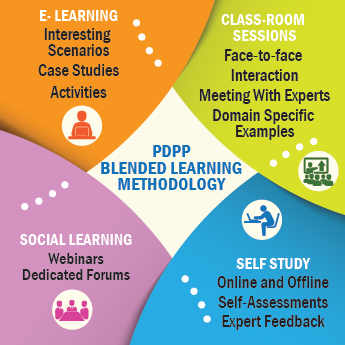 Blended Learning Methodology
followed in Professional Diploma in Public Procurement (PDPP)
CAREER OBJECTIVES
PDPP aims to build up a strong foundation in Public Procurement
PDPP endeavors procurement practitioners in India to understand the process and best practices in Public Procurement followed in Govt. of India and States
PDPP tries to enable those who are aspiring for a career in public procurement to acquire in-depth knowledge and understanding of the field
WHO CAN BENEFIT FROM THE COURSE?
Procurement Professionals wishing to update their domain knowledge
Non-procurement professionals who are involved in or manage the procurement function
Employees of private sector who bid in Public Procurement
Auditing and compliance professionals
Anyone interested in Public Procurement
BLENDED LEARNING METHODOLOGY
PDPP provides learners with an opportunity to enhance domain knowledge and benefit from expert feedback on submissions.
Registered learners systematically enhance their knowledge and skills, and undergo structured assessment. The blended methodology ensures comprehensive online and offline learning..

DURATION AND ASSESSMENT STRUCTURE
Registered candidates are given six months to complete PDPP
They are required to pass module-end assessments, submit assignments and pass the end-term online assessment
The Diploma will be issued to all successful candidates
Validity of the enrollment is 1.5 years
Each additional exam attempt will be charged at Rs.1000/-
Only 3 chargeable attempts allowed during the enrollment period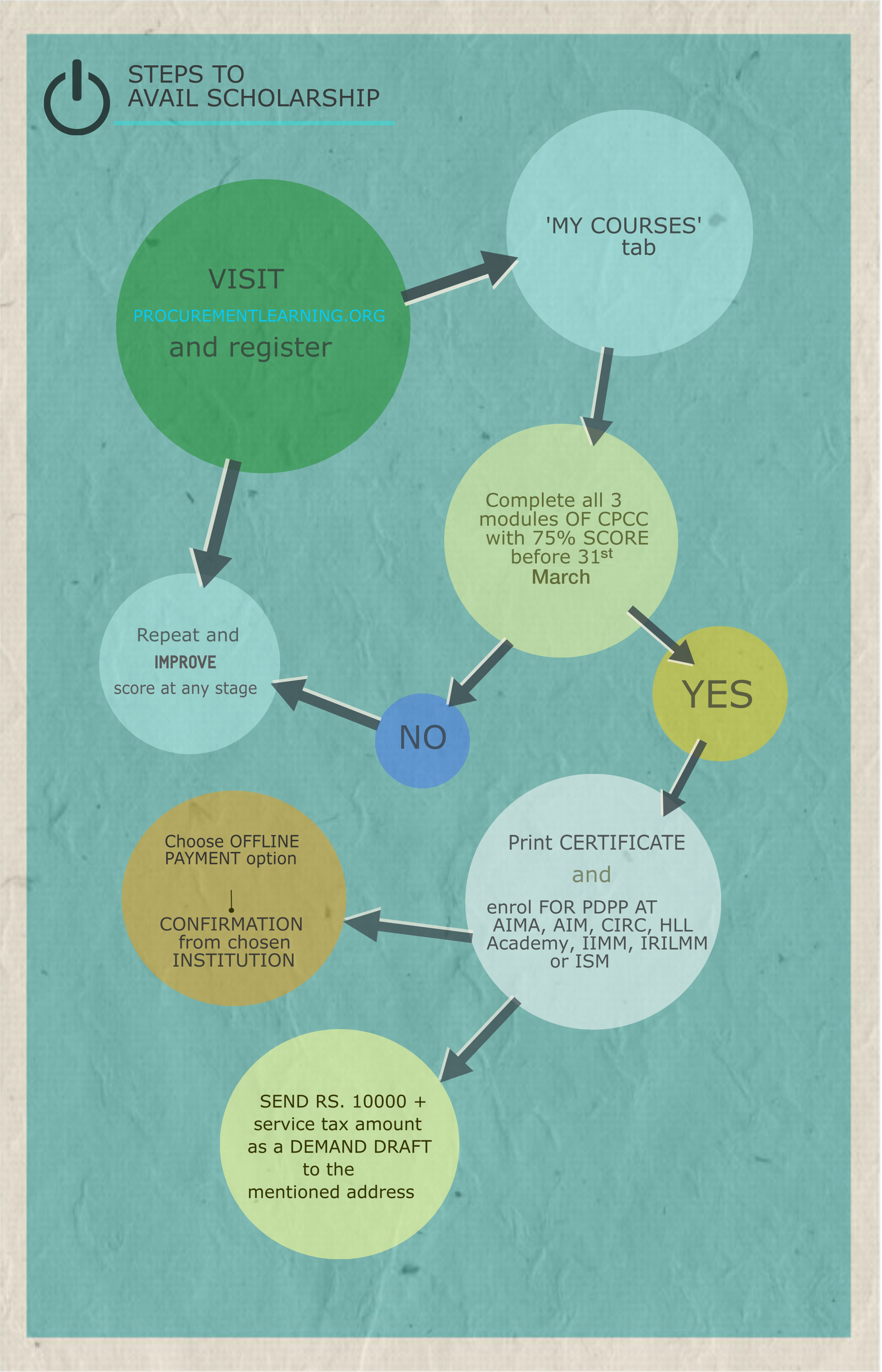 The course is delivered as a blend of e-Learning, instructor-led-sessions, self-study and social learning. The delivery of this course is governed by the 'Charter on Public Procurement Studies' (CPPS). The ILT sessions (face to face) with selected partner institutes will be spread over five days. At the end of comprehensive online and offline training, a summative assessment will be conducted. On successful completion of the programme, the partner institute will award the Professional Diploma in Public Procurement(PDPP).
Dear Visitor,
Thank you for your interest in registering for Professional Diploma in Public Procurement. Unfortunately, we have discontinued with this offering w.e.f. 1st August, 2020. In case you wish to register for any of the courses that are live on www.procurementinet.org, please click here
Happy learning.!
Both Formative (during the course) and Summative (end of the course) Assessments are planned. Summative assessment will carry 70% weightage and Formative assessments, 30%.
Formative Assessments comprise of Module-end Assessments and Assignments. You will need to clear module-end assessment before proceeding to the next module. The pass criteria is set at 60% and you will need to repeat the Module, till such time as you clear this assessment. You are encouraged to submit assignments that are tagged to each Module. At least 4 assignments need to be submitted to qualify for the Summative Assessment.
The Summative Assessment will be in the form of a final examination conducted after the classroom sessions.
You will have to secure 60% marks to pass and be awarded the diploma. If you get 85% or more, you will be awarded the Diploma with a distinction.
The duration for completing the Diploma will be 6 months. You will be allowed 3 attempts to clear the summative assessment.
PDPP has six core mandatory modules (including three modules covered in the CPPP).
Introduction to Procurement and Public procurement (including Management Concepts and Techniques)
Public Procurement Framework in India (including legal aspects of Public Procurement)
Categories and Methods of Procurement
Public Procurement Operations
Contract Management and Closure (including Receipt and Accounting of materials and payment of suppliers' bills)
Public Procurement and Good Governance
In addition, the participants of PDPP will have to choose any two from the five optional modules below:
International Practices in Public procurement
Public Procurement of Civil Works
Public Procurement of Services
Logistics in Public procurement
E-Procurement
The objective of the Professional Diploma in Public Procurement is to deliver comprehensive knowledge that covers theoretical aspects, modern methods & trends and also good practices in Public Procurement. Delivered as a blended learning program that includes social learning from each other, participants would be able to develop expertise in Public Procurement.
Public Procurement forms a significant part of any country's spending by the Government. In the region, it ranges from US $ 300 B in India to US $ 3 B in Bangladesh. To ensure that this money is spent properly in a transparent manner, most Governments in the region have enacted Procurement laws or are in the process of enacting one. Such Acts are expected to improve the quality of procurement. World Bank's endeavour with this course is to enable officials involved in public procurement to be trained to work effectively in such an environment.
The overall aim of the program is to impart required knowledge and skills to undertake effective procurement using best in class practices. This is expected to result in Capacity Building and professionalization of Public Procurement in South Asian countries.