/>


After a successful track record of setting up procurement observatories in many states of India, a national level observatory has been set up recently. This initiative has been implemented by CUTS Institute for Regulation & Competition (CIRC) with support from the World Bank. CIRC is a part of CUTS International, a 30-year young international non-governmental, non-profit research and advocacy group working out of Jaipur, Delhi, and Kolkata in India, and in Geneva, Hanoi, Lusaka, Nairobi and Accra. The World Bank, on the other hand, works across the globe for ending extreme poverty and promoting shared prosperity.

/>
/> The website of National Observatory (www.procurement-india.org) was launched during a workshop organized in Chennai on October 9, 2015. This workshop on improving Competition in Public Procurement was jointly organized by the Bank and the Competition Commission of India (CCI), and was attended by about 55 senior officials from the state governments, central government, and public sector undertakings (PSU) who actively participated in discussions.

/>
/> The website offers analysis of public procurement policies and performance of various procuring entities. It also has features like a discussion board, latest news, analysis and FAQs. More features will be added on the website in due course of time.

Posted by Ananya Dasgupta on Thursday, October 1, 2015 4:49 pm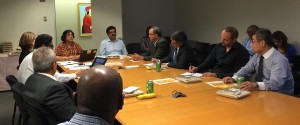 The experience of Procurementlearning.org over the last one and a half years; its reach to over 20000 members from about 140 countries and possible future initiatives were discussed in a meeting attended by senior officers of the Governance Global Practice of the World Bank at its head quarters in Washington on 10 September 2015. The meeting, chaired by Mr. Mario Marcel, Senior Director and Head of the Governance Global Practice of World Bank was attended by senior governance, financial management, procurement and learning experts from different regional offices of the World Bank. Mr. Felipe Goya, Governance Practice Manager introduced the subject and Mr. A K Kalesh Kumar, Task Leader for Procurementlearning.org made a detailed presentation of the last 2 years journey and future plans.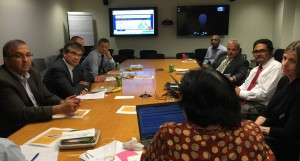 Ms. Ellen Nedde, Chief of e-learning, International Monitory Fund (IMF) and Ms. Sheila Jagannathan, Lead Learning Specialist, LLIOL, World Bank shared their respective experience in this field and observed that the process of development following very in depth engagement with stakeholders for need identification, consultative process followed for developing the content and the various types of interactivity introduced into the learning programs by Procurement Learning are commendable. The meeting also appreciated that in a very short span of time, attracting about 20000 members to enroll for various programs is the strength of Procurement Learning and efforts shall be made to keep this Community of Practice engaged in discussions and developments on public procurement.
Mr. Kumar shared the plans for launching a global e-directory of procurement professionals, 3P Net(Public Procurement Professionals Network)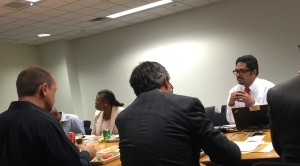 e-Directory which is a unique online recognition program for procurement professionals which would act as a link between the professionals and their public/private sector clients.The plan also includes developing Mobile application for the Community of Practice for instant sharing of information and interactiveness. The meeting appreciated the efforts made towards professionalization of the procurement function and advised the team to proceed to develop versions in all major languages of the world for wider reach among the global procurement fraternity

Posted by Ananya Dasgupta on Tuesday, May 26, 2015 1:14 pm

Procurement has a "seat at the high table" in Australia

In April 2015, I coordinated a World Bank PIO South Asia sponsored Procurement Knowledge Exchange Program for heads of Procurement from South Asian countries to Australia. We visited visited Australian Commonwealth Government, Canberra; Government of Australian Capital Territory, Canberra; Government of Victoria, Melbourne; and Government of South Australia, Adelaide and met parliamentarians, Chairpersons of Procurement Boards, senior management of Public Procurement and senior management of private sector interacted with the delegation through pre agreed and clearly defined technical sessions.

The delegation consisted of Mr. Md. Faruque Hossain, Director General, Central Procurement and Technical Unit, Ministry of Planning, Govt. of Bangladesh; Mr. Karma Wangdi, Head, Public Procurement Policy Division, Department of National Properties, Royal Govt of Bhutan; Mr. Vivek Joshi, Officer on Special Duty and Jt Secretary, Public Procurement Division, Dept. of Expenditure, Min. of Finance, Govt. of India; Mr. Hameem Hussain, Senior Project Officer, Public Procurement Division, Ministry of Finance & Treasury, Govt. of Maldives; Mr. Naresh Kumar Chapagain, Joint Secretary, Public Procurement Monitoring Office, Govt of Nepal; Ms. Nazrat Bashir, Managing Director, Public Procurement Regulatory Authority, Govt of Pakistan; and Mr. Priyanga Algama, Director General, Department of Public Finance, Ministry of Finance & Planning, Govt. of Srilanka. My colleague Mr Mohammad Amin Seskai from the World Bank Sydney office also joined us in the mission.

The most important impression I carried with me from that visit was how seriously the political economy consider public procurement as a an important economic activity in the public space. Procurement has a seat at the "high table" of the Government Business, and it an important "economic activity" to promote local interest. Ministers, Bureaucrats, Civil Society and Private sector discuss and get involved in Government Procurement, regularly. The other key take away I found were:

"Go to Market" is the core of procurement philosophy right from assessing what is needed, how much and how to deliver. Rarely people used terms like "Bidding or Tendering"
Procurement laws used in Australia tell us how to keep the "law making simple". Laws are about basic principles and establishment of Procurement policy making Bodies, delegated with rights and accountabilities for rule making, oversight, performance management and reporting
In Australia, we can see one of the most decentralized model of procurement, Commonwealth and states/territories have different models and laws/rules to follow. Even within a Government, each department has liberty to frame own systems and processes.
Strategic Sourcing and Category Management are common place in Government procurement. Qualified professionals manage categories of commonly used goods and services through firms hired as Category Management Contractors.
A very cohesive management Information system at Procurement Board level and religious inputting of data by all procurement entities ensure Treasury has control over the 4Ws and H of its spending!
Two way movement of Talent between public and private sector with comparable service terms and conditions helps Australian Procurement remain abreast with new developments in market
A large number of very senior officials at all levels of Government supported us in realizing this very useful exposure visit. The entire delegation and the Bank remain grateful for the support and courtesies extended by Mr. Shane Stroud, Ministry of Finance, Govt. of Australia; Ms. Lynne Ford, A/g Assistant Secretary, Procurement Policy Branch; Ms. Fiona Welch, Director Public Procurement Policy and Practice and their team in Australian Government; Ms. Judith Kerr, Chair, State Procurement Board, Mr. Sam Minervini, Director Procurement and their team from Government of South Australia; Ms. Lynne Williams, Chair, VGPB; Ms. Jane Olsen, DTF CPO; Ms. Cathy Cato, Director DTF; Mr. Tarkan Koman, Director and their team in Government of Victoria; and Mr. George Tomlins, Executive Director, Procurement, Mr. Peter Murray, Executive Director Infrastructure Finance and Advisory Division and their from the Govt. of Australian Capital Territory.

The visit offered many new and innovative ideas that the South Asian countries can initiate within their public procurement regimes. These include:

Designating a CPO (Chief Procurement Officer) in every procurement entity and organising six monthly "CPO Forums" to update and keep pace with new developments
Introducing Category Management Contractors for common goods and services- useful for smaller regimes in region
"Alliancing" as a contracting method wherein all affected parties are compensated- railroad project where all those who get affected during construction get compensated
Using "Probity Advisors or Auditors" in large infrastructure projects- (empanelled firms)
Concept of "Hub and Spoke" for procurement skills. Limited 2-3 professional Procurement staff at head quarters of every department for direct handling of High value and Complex procurement. For low value procurement, staff in positions certified and advisory inputs given by the core team.
Using "Entity wise Core Skill Set Concept" for capacity building of departments and agencies- across levels match skill set and augment with hired resources of capacity building
Partnership between Govt. and Private Training Providers for short duration courses, especially to fill the gaps identified in Core Skill Set match. Curriculum set by Procurement Board in consultation with users and courses designed and offered by private providers.
Offering training programs in modular basis. 16 courses are delivered in 45 modules of half day each which are stand alone as well as forming a Certificate level when all completed.

– Kalesh Kumar
Capacity Building coordinator
South Asia Procurement
The World Bank

Posted by Ananya Dasgupta on Tuesday, March 24, 2015 12:41 pm

Haider Raza, Procurement specialist and Public Integrity and openness official at The World Bank explains the nuances of the Framework Agreement in the context of South Asia Regional initiatives concerning Procurement and capacity building. Below is an interview with him published by The Island, an online daily from Sri Lanka. … Read more