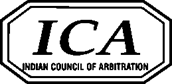 Jointly organize:
TRAINING COURSE ON SOP FOR DBs
(Under a World Bank Project on "Improvement in the Functioning of Dispute Boards in India")
Under the mandate of the World Bank, ICA has completed a research project on Institutionalization of Dispute Boards and, in the process, is forming a Panel of prospective members of DBs for use by the parties to contracts and also by the Institution. The list of the said DB Panel Members will be soon published on the official website of ICA.
As a part of the said project, ICA, in collaboration with the World Bank, is now organizing a Training Program with a view to bring about uniformity of understanding in the functioning of Dispute Boards which will go a long way in speedy and effective resolution of disputes and thereby contribute in saving time and cost overruns of projects. The program will be held on 21st, 22nd and 23rd June, 2016 at the Federation House, Tansen Marg, New Delhi.
This training program will be highly beneficial and of immense use to the professionals of employers, contractors and engineers who have to interact on project management and dispute resolution.
The details of the program are available at www.icaindia.co.in