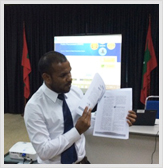 The Certificate Program in Public Procurement (CPPP) was officially launched in Maldives by Mr. Ahmed Mujuthaba, Director General, National Tender Division, Ministry of Finance, Government of Maldives on Thursday the 22 May 2014. CPPP delivered as Massive Online Open Course (MOOC) was introduced by Mr Haider Raza, World Bank Country Focal Point for Procurement for Maldives and Srilanka during a procurement workshop held in Male, Maldives.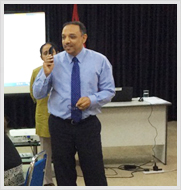 Introducing the program developed with the help of World Bank, Mr Raza highlighted country neutral universality of the program content and the tremendous response the portal has received since its regional launch in March 2014. The portal is accessed from over 100 countries and about 10000 procurement professionals and practitioners have visited the portal. Mr Raza expressed confidence that officials and other general public in Maldives will find the CPPP a useful learning experience. Ms. Sunethra Chandrika Samarakoon, Mr Khalid Bin Anjum and Ms Prabha Kumari Balasooriya from World Bank also participated in the workshop.
The official launch was attended by officials representing 9 government agencies including: Ministry of Environment and Energy, Ministry of Education, Maldives Pension Administration Office, Ministry of Finance, National Tender Division, Auditor General's Office, Anticorruption Commission (ACC), Fenaka Corporation Ltd, Civil Service Commission (CSC), and Civil Service Training Institute (CSTI).
Mr. Mujuthaba an active member of the South Asia Regional Public Procurement Network had been an advocate for regional co-operation in procurement capacity development and hailed the initiative of launching a dedicated portal for public procurement and introduction of learning programs like CPPP with World bank support, a major fillip for the gaps existing in capacity in the countries in the region.

The immediate reaction from the participants was overwhelming and they all confirmed interest in attending to these training modules. In addition to the formal launching of the CPPP, Mr. Ahmed Mujuthaba has indicated that he will be inviting all the government entities to take full advantage of the training opportunity. The representative from the CSC also showed great interest and reiterated their interest in supporting the initiatives through the Civil Service Training Institute which is also identified as the potential partner institution planning to get seriously into e-learning programs. Maldives has shown interest in progressing to the Professional Diploma Program in Public Procurement, next in line for launch at www.procurementlearning.org
The CPPP MOOC which consists of 3 basic Modules, was officially launched by the President of Pakistan during the Second South Asia Regional Procurement Conference held in March 2014 at Islamabad, Pakistan. MOOC is Powered by South Asia Regional Procurement Services (SARPS) of The World Bank.