In a regional workshop organized by the e-Institute and Open Learning Campus (OLC), on "Accelerating Learning for Development", from 5-6 June, 2014 in New Delhi, policy makers from different countries in the Asia region and learning experts have welcomed the initiative by South Asia Regional Procurement services (SARPS) of the World Bank for launching an e-learning platform www.procurementlearning.org for public procurement. The forum suggested adapting the Certificate Program in Public Procurement (CPPP) in to commonly used languages and segmenting the content to different categories of public officials handling procurement. The event was hosted by World Bank Institute (WBI) bringing together key public and private sector training institutes, academic institutions and government officials from India, Mauritius, Bangladesh, Nepal and Bhutan to discuss contemporary trends in digital learning practice, and its implications for accelerating capacity building.

Welcoming the participants to the two day workshop, Ms. Bhavna Bhatia, Coordinator for WBI mentioned that in India, e-learning bears the potential to become a powerful complement or alternative to more traditional forms of distance learning widely deployed in the country. Harnessed properly, e-learning could be an invaluable tool of education for public sector employees, communities, teachers, political leaders and the youth. It is in this context that WBI took the initiative with counterparts in Govt. of India and other key stakeholders for organizing the workshop.

Abha Joshi Ghani, Director, WBI, in her introductory speech highlighted capacity as one of the biggest constraints for development today, which in turn renders learning imperative for practitioners, policy makers and development partners. The WB Group focuses on helping development partners and clients by providing solutions, knowledge, talent and finance and also partnership with key stakeholders. Country leaders and policy makers need evidence-based solutions translated into practical and accessible learning. So, it is not the volume of knowledge that matters, but the manner in which that knowledge is transferred into byte-sized learning to impact practitioners in their day-to-day work. The digital revolution is the miracle that allows us to take learning to a huge population. The WB has two platforms; the Open Learning Campus and the South-South Knowledge Exchange, intended to address the key needs of learning and capacity development.

Ms. Sheila Jagannathan, Manager WBI in her remarks have stated that learning today is not about sitting in a classroom and listening to non-interactive lectures. The infrastructure is already here. India and China alone contribute to half the number of internet users in the world in the last four years. These tectonic changes have led to a re-imagination of knowledge. So, technology not only changes the scale, but also improves the effectiveness of learning. Research shows that blending online learning with face-to-face interaction improves the retention and applicability of learning. This facility can be reused, poised for different audiences, converted into different languages. MOOC is another example of this golden age and we have about 120 top-notch universities, including several in India. The time has come to use the e-learning mode.

Delivering the key note address, Mr. Alok Kumar, Joint Secretary, Dept. of Personnel and Training, Govt. of India observed that at present most of the in service training programs of the Govt. are targeted towards a few thousands of central Govt. 'A' class officers whereas the real challenge is to train the 'B' and 'C' category of staff that runs in to close to 3.5 million. e-Learning seems to be the future direction, as with 20 odd training institutions in the country the maximum intake of trainees in an year is less than 20,000 staff when the estimate for public procurement training itself is over 7 million staff taking into account both central and state Govt. employees. Mr. Kumar however cautioned that infrastructure constraints, attitudinal and cultural aspects shall be kept in mind while designing and developing learning solutions using e-learning platforms.

Mr. Onno Ruhl, Country Director World Bank India, however expressed optimism that India would be the beacon of hope in leading e-learning solutions for the rest of the developing world. Mr. Ruhl mentioned that e-learning options are already being developed for training 300,000 teachers in Bihar and also hoped for training 7 million officials in procurement, Bank's collaboration with premier academic and management institutions in developing and delivering educational courses through e-learning would bear results.

The session that looked at e-learning framework and experiences in India including the SARPS CPPP initiative was chaired by Ms. Abha Ghani Joshi, Director WBI. The session included a presentation on E-learning Experience and Opportunities in India by Mr. Ravi Ramakrishnan, Managing Director, C&K Management and the experiences of Scaling-up Capacity for Public Procurement through CPPP by Mr. A.K. Kalesh Kumar, SARPS Capacity Building Coordinator, World Bank. Distinguished panelists including Mr. Jagan Shah, Director, National Institute of Urban Affairs and Dr. Leena Srivastava, Vice-Chancellor, TERI University contributed to the discussions.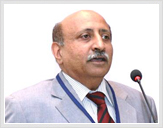 Using research findings on global e-learning trends from Ambient Survey, 2011, Mr. Ramakrishnan stated that e-learning has a future in India despite several odds. It showed that there is a big shift in India, with a sizable population using PCs, laptops, tablets and other hand-held devices. He mentioned that, in another study conducted by TCS, with 17,000 schoolchildren in 12 cities, it was revealed that a very high percentage of students (around 70%) use either a PC or a laptop. Interestingly, there is a second gadget in a number of houses. This is the next generation or the prospective employees of the nation who are going to use technology in the workplace soon.  IGNOU and many other open universities have sought to pursue e-learning in earnest. Most of them have huge numbers of students enrolled. Many corporate organizations have started e-learning and the feedback has been encouraging. Performance and productivity are reported to have increased. Oil and Natural Gas companies, NIFT, the Institute of Chartered Accountants in India, Indian Institute of Remote Sensing, ICAI, State Bank of India, Bank of Baroda, Aadhar, Commodity Exchange of India, etc., are some of the institutions that make use of e-learning. All these indicate that there is a strong case for e-learning in India. It may not have been there five years ago; but it certainly exists now.  

In his presentation on the route treaded for identifying e-learning as a significant solution for public procurement capacity building, Mr. A K Kalesh Kumar, SARPS Procurement Capacity Building Coordinator explained how ten leading institutions came forward and formed a Charter of Public Procurement Studies (CPPS), with the support of World Bank recognizing the need for professionalizing public procurement in India and South Asia. When you have a challenge of capacitating 7 million people, and there are only a handful of organizations conducting face to face and distance learning courses with an annual intake of less than 1000 candidates, a solution that has a mass outreach is required and that is the context in which e-learning was explored. In 2012, Bank started national level consultation to evolve a curriculum and syllabus, and in 2013 the Charter for Public Procurement Studies (CPPS) was formed and outline of the courses finalised. Mr. Kumar further explained that the course was developed by experts in the field and a certificate program in MOOC format catering to the South Asian region, and a diploma program targeting Indian procurement professionals were planned. The certificate program was launched by the President of Pakistan on 25 March this year. Within a month the site had more than 10,000 visitors and 1200 enrolments. Responding to the presentations, Ms. Abha Ghani Joshi, Director WBI highlighted the challenges of procurement getting right in implementing developmental programs and how the initiative to reach out in a massive scale through-learning will be helpful. Dr. Leena Srivastava highlighted that the 7 million estimated target need to be further segmented as they belong to different categories and levels where the learning content can be adjusted. Mr. Jagan Shah highlighted the need for considering language versions of all e-learning programs. Ms. Sheila Jagannathan, Manager WBI while agreeing with the suggestions for language versions, appreciated the efforts to start in English, gain feedback to test the rigor of the program and then proceeding with multiple versions. The audience also responded well to the initiative of CPPP and made suggestions for appropriate targeted marketing and keeping the content updated for retaining interest of the learning community.