Great emphasis was given for increased capacity building in public procurement by all the speakers at a
function held in New Delhi on 29 August 2014 to launch the Professional Diploma Program in Public Procurement (PDPP). Mr Anurag Goel, member of the Competition Commission of India launched the course in the august presence of Mr Sidharth IAS, DGS&D, Mr S P Piplani, member Stores, Indian Railways, Mr. Pradeep Mehta, Secretary General CUTS, Jaipur; Ms. Rekha Sethi, Director General AIMA, Mr Michael Haney, Operations Advisor and Mr Felipe Goya, Practice Manager Governance World Bank.
PDPP is an advanced diploma programme that offers a comprehensive introduction to public procurement and focuses on best practices in government and the public sector. The PDPP course using online/off-line blended learning methodology is designed to benefit public procurement professionals in Central /state governments, local bodies (Gram Panchayats and Municipalities), state owned enterprises (SoEs) and Public Sector Undertakings (PSUs) who wish to update their domain knowledge. It is available on www.procurementlearning.org in a blended mode. The diploma programme, developed with the support of the World Bank is spearheaded by the Charter of Public Procurement Studies (CPPS). The charter is an initiative of ten leading academic and management training institutes of the country.
Mr. A. K. Kalesh Kumar, Capacity Building Coordinator- Procurement, Governance – Global Practice, World Bank welcomed the guests and briefed the background of this initiative. Mr Felipe Goya introduced the need for affordable and Information technology based learning programs to the audience consisting of senior civil servants, public and private sector representatives, partners institutions and procurement think tank and consultants. In his introduction Mr. Goya said that India's public procurement is to the tune of USD 500 billion and WB's efforts as part of the Country partnership Strategy agreed with the Government of India in this direction towards professionalization and capacity building in the sector. It has been estimated that around 7 million people are involved in public procurement in some way or the other in the country.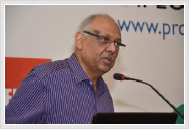 Mr. Anurag Goel, Member, Competition Commission of India, while launching the course said that PDPP is extremely important and that there is more to public procurement than mere tendering .It has a larger dimension of administrative and governance reforms and capacity building is essential for knowledge transfer as well as empowering the officers handling the procurement function.
In his felicitation Mr. Sidharth, IAS, Director General DGS &D,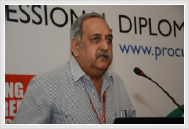 Government of India brought forward the limited understanding of procurement to that of tendering and contract award and the need for bringing knowledge levels that encompass from need identification to need satisfaction and how programs of this nature will aid towards that. He has offered the immense knowledge and experience DGS & D in the area of procurement that can be partnered for faculty and other requirements. He wished the program a great success.
Mr. S P Piplani, Advisor and Additional Member, Stores, Indian Railways in his felicitation shared the experience from Railways and RITES project implementation that highlighted the need for a minimum level of procurement management knowledge required. Felicitations were also offered by Mr. Pradeep S Mehta and Ms. Rekha Sethi for the successful launch of PDPP. Closing Remarks were made by Mr. Michael Haney, Operations Advisor – World Bank's India office who shared some of the bottlenecks observed in project implementation due to limited procurement knowledge in World Bank's India portfolio which include a lending of USD 24 billion. Dr. Raj Agrawal, Director All India Management Association (AIMA) offered vote of thanks.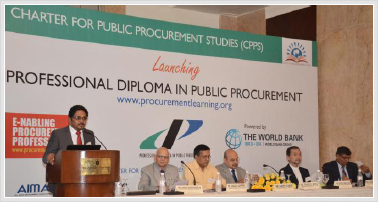 The launch was followed by two topical panel discussions that further emphasised the need for concentrated efforts for capacity building at all levels that helps the procuring entities as well as the general public know more about the strategic importance of the function and for enhancing the efficiency of the process. Mr Kalesh Kumar introduced the theme for the Panel on "Capacity Building in Procurement for Efficiency in Public Procurement" which was moderated by Mr. Girish Bhatnagar, DG. IRILMM. Mr Sanjay Aggarwal, Director Public Procurement Division, Govt. of India,Mr. Harsh Kumar, Director, National Institute of Financial Management (NIFM) Mr Ajay S Singh, Director, Dept. of Economic Affairs, Mr. Pradeep S Mehta, SG, CUTS; Mr Hiroyuki Maruyama, Asian Development Bank and Mr Devesh Mishra, World Bank, participated in the panel.

The second panel discussion on "Blended Learning paradigm for Public Servants" was moderated by Mr Krishan Batra, President ISM India and the panelists included Ms. Bhavna Bhatia, Regional Coordinator WBI, Ms Seema Srivastava, Director LRC, Department of Personal and Training,(DoPT), Mr Praveen Purang, Advisor Procurement, Jindal Steel, Mr. Ravi Ramakrishnan, Managing Director, C&K Management Ltd., Dr NN Sarma, Director AIM and Dr Raj Agrawal, Director AIMA.